Lough Erne dip: reporter takes David Cameron's icy dip tip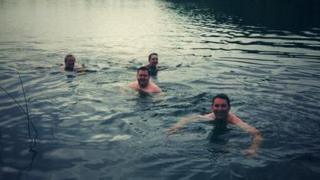 Prime Minister David Cameron took an early morning dip in Lough Erne, County Fermanagh, last week during the G8 summit.
Afterwards he recommended a dip in the water telling reporters at the Lough Erne Resort near Enniskillen: "It certainly wakes you up and gets you going for a hard day chairing this summit."
His swim, which took place just after 06:00 BST, was described as "early, brisk and cold".
It was reported that he dragged a reluctant police protection officer in to join him in the freezing waters.
"Reluctant" was a good way to describe my feelings when an office-based producer in Belfast suggested I try a "wild" swim for myself, live on BBC Radio Ulster's Good Morning Ulster.
The waters of Lough Erne are not exactly a clear Mediterranean blue but rather a murky peaty brown.
Having received warnings about hypothermia, risks of Weil's disease and the threat of cuts from razor sharp zebra mussels, I managed to find three volunteers to share in the experience.
Gabriele Tottenham runs Blaney Spa and Yoga Centre a few miles from the Lough Erne Resort.
Originally from Germany, she goes swimming in the lough nearly every day in the summer, describing it as "refreshing".
"If it's a fine morning, I come down here for a dip in the lake, just to wake myself up" she said.
"Once you get used to it, it's really invigorating. It really gets you going for the day. It's wonderful.
"But definitely do go swimming with somebody else. It's not a good idea to go swimming on your own. Make sure the lakeside is not too rough and keep away from the swans."
Although she says there are no monsters lurking in the depths, few Fermanagh locals appear to share her enthusiasm.
Chelsey Wilson is a Commonwealth swimmer from Enniskillen.
She spends most of her time training in a swimming pool, but two years ago she took part in a 50-mile relay swim from Crom, in Upper Lough Erne, to Belleek in Lower Lough Erne.
As well as being rather cold, amongst the hazards she encountered was an aggressive swan.
"It took us about 27 hours, there was about five of us. We got a wee rest and then back in again. It was fun."
She said a dip in the lough would definitely "wake you up in the morning".
I was also joined by Sean Paul Curry, a local youth worker who had last swam in the lough more than 10 years ago.
He was "volunteered" to take part in our live radio challenge by a friend who then followed the example of the Russian President Vladimir Putin, and opted for a lie-in instead.
Although I wasn't entirely convinced by the enthusiasm shown by some of the others, it was time to take the plunge.
After a few tentative steps, I decided the best strategy was to just go for it and get underwater as quickly as possible.
The first few strokes took my breath away but after some initial yelps I could once again take in the tranquil surroundings, and begin to enjoy the experience.
The surface of the water was flat calm, birds were singing in the trees and in the distance a duck was making its own progress across the lough.
We spent about 10 minutes laughing and splashing about before returning to shore for a hot coffee and a shower.
Chelsey Wilson hopes to start competing again at the end of the year, but after her morning dip she says she would rather swim outside instead of the pool.
"You kind of forget what it's going to feel like but once you get in just the shock and everything, once you get going, it's fine, I loved it.
"I just loved the freedom and the birds singing."
Gabriele Tottenham said it was good to have the company.
"It's such fun to swim out in nature it's totally different than in the pool and for me it is great as I don't have to drive to the pool, it's right beside me on the doorstep so why not use it.
Gabriele has written to the prime minister, inviting him to join her for a swim when he returns.
"I said it was great that he went for a swim in the lake and I hope that next time when he comes back to Fermanagh that we can swim together in the lake."
Sean Paul Curry said the experience helped to wipe away the cobwebs.
"It was very refreshing this morning. Just as we went in the sun came out so it was even better scenery to enjoy it in."
Waterways Ireland advise swimmers to use council designated bathing areas and to avoid jetties, marinas and harbours used by boats and other watercraft.
Anyone considering a swim in a lake or river should read the safety advice on the wild swimming website.