Carrickfergus bar fire treated as arson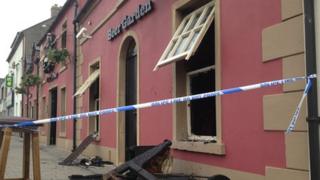 A fire that badly damaged a bar in Carrickfergus, County Antrim, is being treated as arson, according to police.
The blaze at Ownies Bar and Bistro, previously known as the Joymount Arms, was reported at about 01:30 BST on Monday. Nearby houses were evacuated.
More than 30 fire fighters were involved in bringing the fire under control and residents were allowed to return to their homes after 04:00 BST.
It is the second arson attack on the building within the last 18 months.
The Fire and Rescue Service Station Commander William Laverty said the blaze was intense when the crews arrived.
"We were faced with a building that was heavily smoke-logged," he said.
"We had evacuated dwellings on either side and we had to commence fire-fighting straight away because of the nature of the fire.
"Thankfully there was no structural damage to the building but there is substantial damage to the inside."
In December 2011, the bar was badly damaged in an arson attack.