Schools 'not firm enough on poor teaching' says committee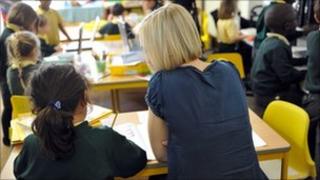 A Northern Ireland Assembly committee has said schools have not acted strongly enough to sack teachers who are not performing well.
The public accounts committee said it is concerned many children are leaving school with poor literacy and numeracy.
In spite of some improvement, one child in six still leaves primary school without essential skills in reading, writing and maths.
The figures are even worse for older children.
The public accounts committee said there is convincing evidence that early help for struggling children gives best results, yet the funding of schools is heavily weighted in favour of post primary schools.
The committee said more money should be directed to younger pupils.
The problem of the poor performance of some teachers is not being tackled firmly enough, it has said.
The committee has called for schools to act more decisively in sacking teachers who do not make the grade.