Illegal drugs: £10m worth seized in year in Northern Ireland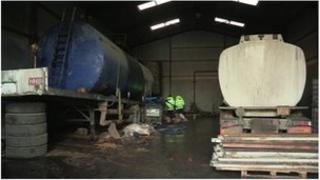 Illegal drugs worth £10.2m have been seized by the authorities in Northern Ireland in the past year.
The figure was revealed by Justice Minister David Ford as he published the organised crime task force's annual report.
Figures showed that more than 2,700 were arrested for drug offences, almost 10% more than the previous year.
Twenty-two fuel laundering plants were dismantled and £1.3m of criminal assets were seized.
Mr Ford said that 820,000 litres of illicit fuel had been seized and £729,000 cash forfeited.
He said 16 potential victims of human trafficking were also rescued.
"Law enforcement agencies and government will continue in our work to tackle organised crime but the support of the public is vital," said Mr Ford.
"Our threat assessment points to the continued general lack of public understanding of the connection between, for example, the purchase of fake goods and the supporting of organised crime gangs."
He added that it also funded "more dangerous elements of the gangs including selling drugs to young people and prostitution rings involving trafficking victims".
Chief Constable Matt Baggott said last year the authorities "frustrated, disrupted or dismantled 116 organised crime groups and made 464 arrests".
He said many of those resulted in convictions and custodial sentences.
"People need to recognise the link between their decisions to purchase certain goods and services and how the wrong choice can increase their personal risk of becoming a victim," he said.
"We will continue to work to reduce the substantial risks posed to our communities by organised crime."