Huge bonfire in Ballyduff estate to be relocated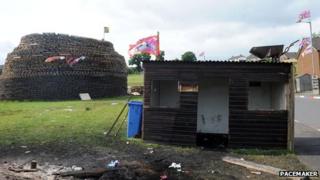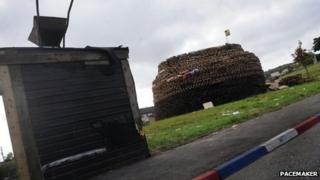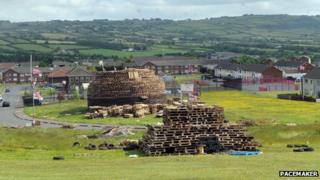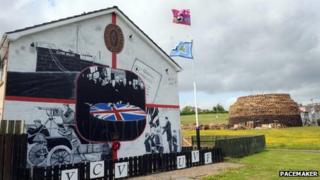 A huge bonfire built near homes in a County Antrim housing estate is to be dismantled and relocated.
The bonfire towers over nearby houses at Ballyduff estate in Newtownabbey and was due to be lit next month, as part of the annual 12th July celebrations.
Community worker Phil Hamilton told the BBC the bonfire collectors had listened to local residents' concerns and agreed to move the bonfire.
He expects the work to start as soon as possible.
Mr Hamilton said he wanted to "commend" the bonfire collectors for their decision.
"After listening to the residents about their serious safety concerns the decision was taken to relocate the bonfire," he said.
"The collectors will begin to take it down and no tyres will be burnt on the new site."
Earlier the Housing Executive had expressed safety concerns about the bonfire and had produced a report on the issue that stated firefighters may "spray foam on properties in the danger area".
However, the report also warned there was a possibility that the Fire Service equipment necessary to spray the foam might not be available on the night of the bonfire, if there were other emergencies.
The tower, constructed mainly of wooden pallets, has been built on a large green area within the housing estate.
It is almost twice the size of the houses and it is fewer than 100 yards from some of the residents' garden gates.
A number of residents called a meeting this week, amid fears that the flames could spread to their homes when the bonfire is lit.
Speaking to the BBC's Nolan Show, they said they felt intimidated and were reluctant to publicly criticise the bonfire, but added that the situation had come to a head and they had to speak out.