Flag protester Jamie Bryson curfew eased for Somme day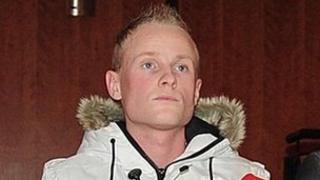 Union flag protester Jamie Bryson has had his bail restrictions temporarily eased so that he can attend a Somme commemoration in Bangor on I July.
In court on Thursday, the police said they had no objection to him attending provided he was wearing civilian clothing and was not part of a band.
The judge said he could attend as a member of the Bangor Protestant Boys' band and lay a wreath.
He was barred from public speech, social media comment and interviews.
Mr Bryson, 23, of Rosepark, Donaghadee, County Down, is on bail charged with offences connected to protests over restricting the flying of the union flag at Belfast City Hall.
They involve allegations of encouraging or assisting offences and taking part in an un-notified public procession.
Mr Bryson was released from custody in March on tight conditions, including a ban on being within four miles of City Hall, Belfast, except for court appearances.
He was also warned that he must not take part in protests, give speeches or make comment on social media before, during or after any protests about the flag dispute.