A closer knit: how weaving brings a city together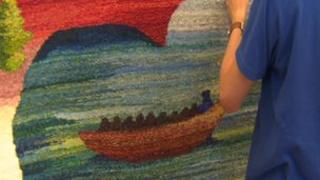 As a metaphor for knitting people closer together, weaving is as good as any.
In a hall attached to an historic church on Derry's walls that is what they have been doing for three weeks.
The Big Weave is as much a part of Londonderry's UK City of Culture year as the Radio One Big weekend.
"The whole idea of it is that we are making tapestries all together," said Rev Pat Storey, rector of St Augustine's Church.
The whole city and tourists have been involved.
"We've had thousands of people weaving tapestries together and leaving a legacy behind for the city," she said.
"We are doing seven tapestries, we're keeping one and we're giving six away to different bodies in the city.
"The whole idea of it is that it's cross community, that it's inclusive, that everybody is able to participate.
"We've had a lot of children up from schools, we've had people with disabilities and learning difficulties up and the whole idea is just that everybody can do it."
The City of Culture year is almost at its halfway stage. Hotel occupancy rates are up; events are sold out and everyone agrees that it has been a great party.
But for The View on BBC One Northern Ireland, I've been asking whether the event is permeating into peripheral communities and helping to bring this divided city closer together.
The Creggan estate is one of the most deprived areas of the city and a base for dissident republicans, so how is the City of Culture impacting there?
Pretty well according to Seamus Heaney, project director of the area's healthy living centre.
"I think the past six to eight weeks have been really terrific for the city," he said.
"There has been a really good feel about it, a good buzz, a good sense of things happening and of an occasion that was celebratory and I think that impacts across the city, including areas like Creggan, Bogside, Shantallow, Waterside. I think people feel included in that."
But has it brought Protestants and Catholics together?
"It's hard to make a judgment on those sort of things," said Mr Heaney.
"I don't know if that's the intention - to be some kind of reconciliation device - but certainly there is a very good feel-good factor in the city.
"When you're out and about people are smiling, they're happy there's a good feeling of celebration in the air.
"There's also a wee bit of a 'wow we can do this', there's that sense of 'We didn't think this could happen in Derry but it's happening.'"
Creggan teenager Michael Robinson said it had been positive for the area.
"It has happened at the right time with all the republican stuff like that happening in the city so it brings everyone together and takes everyone away from all the terrorism stuff that's happening in the city," he said.
The city's two main newspapers the Derry Journal and the Londonderry Sentinel have shown the way by co-operating - for the first time - on a City of Culture magazine.
The Journal editor Martin McGinley said: "There's been a conscious effort made by the organisers to involve what you used to call both sides of the community, also the peripheral areas, marginal areas and you see that in efforts like the music promise where kids right across the city are getting the chance to dip their toes in the musical waters and this is known as the musical city.
"You see it in initiatives like Music City where you had musicians from schools all over the place, young and old and all free, so you're not having a barrier in terms of financial terms. Even for the bigger events, prices were very reasonable."
In this heavily nationalist city there has been some resistance to the UK prefix. David Ramsey a community worker in the mainly Protestant village of Newbuildings says there had been an attempt to "airbrush" the title out - "skulduggery" he calls it.
But nevertheless he said people from the area he represents have embraced the celebrations.
Willie Lamrock, another community worker from the Protestant Dromahoe area said the City of Culture has helped reconciliation - but that the process was happening anyway.
"If the City of Culture had been something that came about five, seven or ten years ago, I think there are very good reasons why the unionist community may not have engaged as strongly as they are now but there's a lot has happened in this city in the past five years and there's a lot of confidence that has been created in the unionist community by good quality community development work that has gone on."
A big test will come in August, a month that once saw tension in the Derry air.
This year, the annual Apprentice Boys festival to mark the Relief of Derry will be followed by the All-Ireland Fleadh in which a number of Protestant bands will take part.
This was unthinkable in the past, but then that was before the City of Culture came to town.