MLA's should get 'greater recognition' if they do not take Executive seats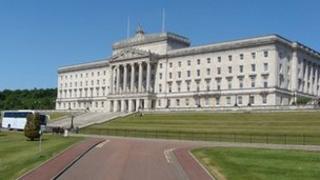 A Stormont Committee report is expected to recommend parties should get greater recognition in the Assembly chamber if they choose not to take their places in the Executive.
The report is due to be published next week.
It is also likely to say independent MLAs and those from small parties, should be able to form groups to improve their speaking rights.
The report has the backing of most of the big Stormont parties but Sinn Fein has reserved its position.
The Assembly and Executive Review Committee's report is also understood to suggest talks after the next assembly election to agree the main points for a future programme for government.
Those parties who do not wish to join the Executive could refuse to take their ministries but have their position recognised by enhanced speaking rights in the assembly chamber.
However, there is no suggestion of extra funding for an official opposition.
After complaints from independents and MLAs from smaller parties about their lack of recognition, it is thought the report will back the development of what are known as technical groups with at least five members.
Some witnesses who gave evidence to the committee suggested abolishing the current system by which MLAs have to designate themselves as unionists, nationalists or others, replacing it with weighted majority voting.
But it is understood the report does not back this change.