Alwyn Donnell faces trial on child sex abuse charges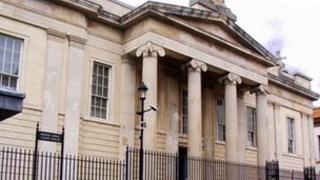 A 49-year-old man is to stand trial on child sex abuse charges at Londonderry Crown Court.
Alwyn Victor Donnell, from Rushcroft Gardens in the Waterside area of the city, is charged with three counts of indecently assaulting a young girl.
He also faces two counts of committing gross indecency with the same child, during attacks that allegedly took place about 34 years ago.
Mr Donnell was released on bail, to appear in the court again on 20 August.
The offences he is accused of were allegedly committed between January 1979 and December 1980.
As part of his bail conditions, the judge ordered Mr Donnell not to have any contact with the complainant nor with any other prosecution witnesses.