Mike Nesbitt: Jimmy Spratt apology for 'nutters' remark is for others to accept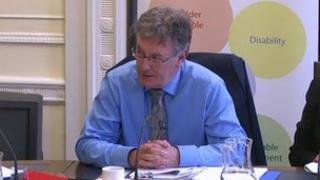 Ulster Unionist leader Mike Nesbitt has said it is up to others whether they accept an apology from a DUP MLA who described some opponents of the Maze peace centre as "nutters".
Jimmy Spratt made the remark in front of Mr Nesbitt in a Stormont committee. He later apologised, saying it was not aimed at any group or individual.
The UUP leader said it was up to the Orange Order, the Prison Officers Association, police and army widows and "thousands" who oppose the centre whether they accepted his apology.
Mr Nesbitt said that "if they are happy then we could move on'".