Rod Stewart visits Cliftonville ahead of Champions League tie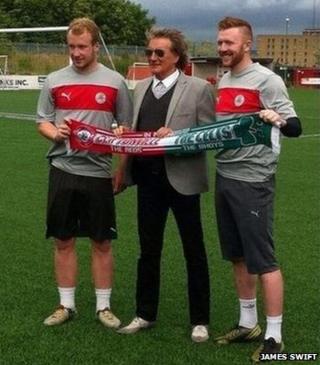 Ardent Celtic fan Rod Stewart took a break from his tour schedule on Thursday night and visited the ground of local football club Cliftonville.
The star turned a few heads as he was given a tour of the Reds' Solitude ground by chairman Gerard Lawlor.
He was visiting ahead of next month's Champions League qualifying games between the Reds and his beloved Celtic.
Goalkeeper Conor Devlin and striker Liam Boyce were among the players who got to meet him.
Conor Devlin said the visit was a closely-guarded secret and only the chairman knew about it.
"Being the big Celtic fan that he is, it was nice of him to come down and check us out before the game.
"We got to say a few words, he was asking if we were looking forward to the game and stuff," he said.
"It's really nice that celebrities and people of that magnitude are taking note of Cliftonville.
Questions
"Me and Liam were talking about this... when we meet footballers it doesn't seem to faze us at all but when we meet people like Rod Stewart, you sort of do have that different feeling about it and it was nice to have him here.
"I wouldn't be a massive fan of his music being very young myself, but my family are and it was great for him to come along."
Rod Stewart was given the guided tour by the chairman and the board. Towards the end of the visit, the manager and players got to meet the surprise guest as they arrived for training.
Conor Devlin said the star didn't know too much about his team but was interested to meet the forthcoming opponents.
"I'm sure he went away from solitude with a lot of knowledge and I'm sure Gerard Lawlor was in his ear the whole time," he said.
Cliftonville will travel to Celtic Park in the first leg of the second qualifying round of the Champions league on 16/17 July.
The reds are currently trying to increase their ticket allocation for the 'glamour draw' as so many fans are keen to attend.
"I hope we can," Mr Devlin said.
"It would be a shame for some of our fans to miss out on such a big game especially those who have been travelling abroad in the past, especially as tickets will be scarce.
"But hopefully we'll have extra seats and it will be a great night.
"It's just great for local football - Cliftonville getting the big tie against Celtic puts our name back out there and gets people asking questions about the Irish league and how good it is."