Illegal fuel-laundering plant found in Crossmaglen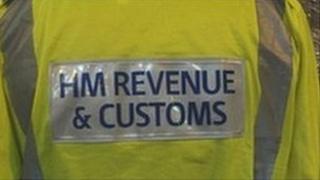 More than 14 tonnes of toxic waste were removed from a diesel-laundering plant in farm buildings in County Armagh on Thursday evening.
Officers from HM Revenue and Customs (HMRC) and the PSNI carried out the operation following the discovery of the plant in Crossmaglen.
The plant was dismantled and the waste, in 1,000-litre containers, was removed.
A HMRC spokeswoman said the plant was capable of producing almost five million litres of illicit fuel a year.
She said that would have meant tax evasion of more than £3m in excise duty and VAT.
Huge amounts of money can be made from fuel-laundering.
For economic reasons farmers and some industries can buy diesel at a considerably cheaper than road users.
A red dye is put into the discounted fuel in Northern Ireland to prevent it being used illegally. In the Republic of Ireland, green dye is used.
Fuel-laundering has become more common in recent years.