Lord Maginnis in court on assault charge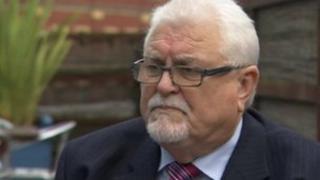 Lord Maginnis of Drumglass has appeared in court on an assault charge.
The peer, 75, of Park Lane, Dungannon, County Tyrone, is accused of assaulting a man on 7 June 2012, in what is understood to be a road-rage incident.
Representing himself at Dungannon Magistrates Court, Lord Maginnis said he wanted the justice minister to give evidence in the case.
He said the charge was based on "conspiracy and corruption".
A hearing has been set for 19 August. Lord Maginnis said he will have legal representation for the hearing.
Addressing Deputy District Judge Nigel Broderick, Lord Maginnis said: "The evidence in this case is so contradictory. The whole thing is a tissue of lies.
"I believe there is conspiracy and corruption and I want the minister of justice before this court.
"He knows I am taking a judicial review against his colleague the DEL minister. This whole thing has been done to embarrass me.
"But at 75 years of age and having been in police uniform, a school principal and army major, I don't intend to let some johnny-come-lately embarrass me"
A prosecution application was made for a witness who is aged under 18, to be permitted to give evidence by live-link.
Lord Maginnis objected.
"The young person in question gave a statement made concurrently with the victim. I think if someone is brass necked enough to give a tissue of lies I believe she should be here to face the lies," he said.
Judge Broderick granted the application for the youth to give her evidence by live-link.