'Blackout driver' jailed for killing Rebecca McManus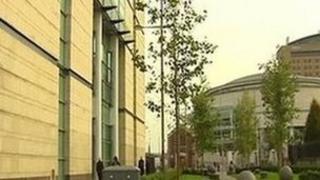 A woman who blacked out while driving and killed a young woman in a car crash has been given 15 months in jail.
At Belfast Crown Court, Mary McLaughlin, 47, of Dillons Avenue, Newtownabbey, was ordered to serve five months in prison and the rest under supervision.
The judge said he was giving her a "significant discount" for her medical condition.
But he added that he did not think she could evade a prison sentence.
At the end of her trial in May, the jury unanimously convicted McLaughlin of causing the death of Rebecca McManus, 27, a mother of two, by dangerous driving on 7 October 2010.
They also found her guilty of causing grievous bodily injury to four other people in the car.
McLaughlin suffered a blackout at the wheel of her car at the M5 roundabout in Newtownabbey and crashed into another car carrying five friends from the nearby Northern Regional College. Rebecca was sitting in the back and was killed instantly. The others suffered serious injuries.
Witnesses to the fatal crash said McLaughlin was "slumped" behind the wheel with her eyes closed and "drooling". She told both witnesses and police at the scene that she suffered from blackouts.
It was the Crown case that despite being issued with a three-year licence, McLaughlin "knew very well it was dangerous (for her to drive) and that she carried on regardless of that danger".
McLaughlin told the court that she "would never" have driven if she did not feel safe to do so.
'Astounding'
She claimed that despite suffering from repeated blackouts since 2004, a medical condition that resulted in her being medically retired from her finance job at the Northern Trust, she had come to know the warning signs of an oncoming attack.
Sentencing her on Monday, the judge said McLaughlin had told her doctor she had warning signs before any blackout attack but that on application forms for Disability Living Allowance, she repeatedly stated that due to "no warning blackouts, I need help to avoid injuring myself" and only ventured out when absolutely necessary.
The judge said the fact that no doctor had told her not to drive was "quite astounding".
But he said McLaughlin had shown genuine remorse and had a completely clear record and a good working record.
McLaughlin was also banned from driving for 10 years and will have to resit her test.
The judge said passing sentence in cases where the court is faced with a mature person with a clear record was "intrinsically difficult" but that no sentence would measure the worth of Rebecca's life or memory or the effects on the other victims.