Man jailed for robbing chemist's at knifepoint for second time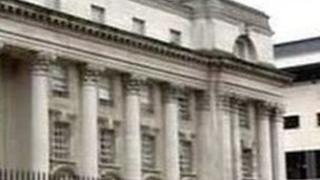 A man who robbed his local chemist's shop at knifepoint for a second time has been jailed for three years.
Belfast Crown Court heard that Gerard Armstrong, 52, had been drunk, masked and armed with a five-inch knife when he robbed Mooney's chemist on Clifton Street, north Belfast, last November.
Armstrong had earlier taken all his prescribed medication in one go and feared running out.
The prosecution lawyer said he first robbed the chemist in 2007.
The court heard that Armstrong, from Finn House in Belfast, demanded staff hand over prescription painkillers and cash from the till.
A prosecution lawyer told the court the manager handed over the medication along with five £5 notes and two £20 notes inside a plastic bag. The manager had also placed a security dye inside the bag.
Medication
After leaving the store Armstrong was watched by the staff walking briskly towards Henry Place and after calling police the manager and the owner pursued the accused, punching him in the face and wrestling him to the ground.
The court heard that the dye pack had exploded, meaning the pair could be certain they had been following and had detained "the right man", and that police were able to trace their location by the smoke coming from the plastic bag.
In an interview with police the accused said he "had taken all his medication in one go that he was supposed to take over a period of time, and then drunk vodka and cider at home and in a pub".
The prosecution lawyer said it was accepted the accused had a background of dependency on drugs and alcohol for some years, but also had numerous convictions for dishonesty and deception and drug offences and had also received a five-year jail term for robbing the same store in 2007.
The judge said Armstrong will spend half his sentence in jail and the remainder on supervised licence conditions.