'UDA gang' jailed for £10,000 blackmail attempt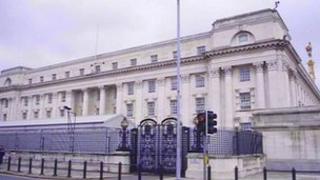 A four-man gang who had claimed to be members of the UDA have been jailed for their roles in a "significant and orchestrated" blackmail attempt.
The men, all from the north Down area, were jailed for a total of 29 years.
Belfast Crown Court heard the men sought money from a businessman known as 'Witness A'.
The gang continued to plead not guilty and "even yet were denying their roles" despite police surveillance film and phone-tap evidence.
Richard Barry, 40, of Cairndore Way, Newtownards, was sentenced to nine years, and Glen Benson, 42, of Barnagh Park, Donaghadee, got eight years. Andrew McBride, 31, from Upper Movilla Street in Newtownards, was sentenced to seven years and 42-year-old David Walsh from Kearney Gardens in Bangor, five years.
The court had previously heard two of the gang had approached the witness at his home in September and October 2009, claiming to be from the UDA, after he had earlier supplied them with small amounts of cannabis.
On this occasion the pair told him he had to pay the paramilitary group a £10,000 "fine" for his role in growing cannabis.
The victim was instructed to meet gang members at a Newtownards car park to make his pay-offs.
Threats
The court heard sums of up to £6,000 were paid over to the gang and one payment of £3,000 has never been recovered.
The victim and his wife, known as 'Witness B', were told by gang members that their house would be burnt if he did not pay up, and one of them would be shot if they went to police.
Eventually the married pair fled their house under the threats from the gang. For a they time lived in their car before going to police and making statements.
As part of the operation Barry had been arrested by police while sitting in a Newtownards bar counting an envelope stuffed with cash.
McBride's sentence drew loud gasps from a number of women in the gallery, one of whom fled the court while others buried their heads in their hands.
The judge told the defendants: "This was a significant and orchestrated blackmail. You all pleaded not guilty and even yet are denying your roles."
The gang were told they would serve half their sentences in custody and half on licence.
A fifth member of the gang is due to be sentenced later.