Northern Ireland MPs opposed to pay rise proposals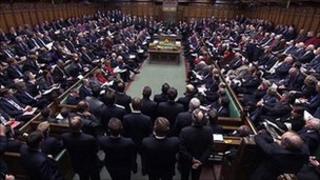 MPs from Northern Ireland have said they will not accept a pay rise if it is recommended by an independent body later this month.
The Independent Parliamentary Standards Authority is thought to be considering awarding MPs a salary increase.
The rise would boost their pay to more than £70,000.
If approved, it is expected that backbench MPs' £66,000 salaries would increase after the next election.
Prime Minister David Cameron has said any such proposal "would be unthinkable unless the cost of politics was frozen and cut".
The DUP, which has eight MPs, has made it clear that they are against the idea of a pay rise.
A party spokesman told the BBC: "During a time of austerity our MPs believe it is inappropriate for MPs to be given a pay rise or to accept such a pay rise if it is implemented, and they will not be doing so."
The same approach is being taken by the Alliance Party's Naomi Long.
Unacceptable
The East Belfast MP said: "I am not in favour of the recommended increase in MPs' salaries."
The SDLP, which has three MPs, is also opposed to the pay rise.
A party spokesman said: "Given the tough pay and conditions experienced by other public sector workers, the three SDLP MPs do not think it is appropriate to accept a pay rise."
The Independent MP for North Down, Lady Hermon, said the idea of a pay increase was unacceptable.
"In the present harsh economic circumstances it would be totally indefensible for MPs to accept a pay rise now even if it is recommended by a wholly independent review body."
Labour leader Ed Miliband said the Independent Parliamentary Standards Authority should cap pay in the light of public sector settlements.
The Liberal Democrat leader Nick Clegg has also urged restraint.
The Commons voted against a 1% pay rise in 2011 and last year agreed to extend the pay freeze into 2013.
MPs' salaries are due to rise to £67,060 from April 2014.