Police renew dangerous drugs warning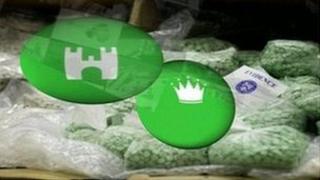 The police have renewed an appeal to the public not to take ecstasy pills known as Green Rolexes.
They warned that pills seized recently were found to contain highly toxic chemicals which are slower to take effect.
They said this may lead users to take more of them.
Detectives are still awaiting the results of toxicology tests following the sudden deaths of eight people in the past month.
Highly toxic
They are trying to establish whether they took a tablet they thought was ecstasy.
The renewed warning was issued after forensic analysis revealed that the recently-seized pills were found to contain the highly toxic chemicals PMA and PMMA as well as ecstasy.
Det Insp Andy Dunlop said: "The combination of ecstasy and PMA can be particularly hazardous to health and has been linked with numerous deaths worldwide.
"PMMA is particularly toxic. Both dealers and users may be unaware that what they believe to be ecstasy, actually contains PMMA.
"PMMA pills are slower to take effect. This may cause the user to take more, which can lead to seizures, convulsions, heart attack and ultimately death."