NI tourist numbers 'virtually unchanged' in 2012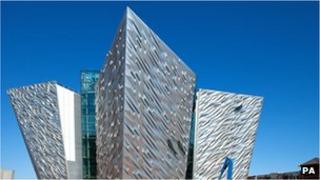 The number of tourists visiting Northern Ireland in 2012 was virtually unchanged from the previous year according to figures released by the NI Statistics and Research Agency.
However, the amount spent here by visitors has increased by 7%.
Only 5,000 more tourists stayed the night in Northern Ireland than in 2011.
This was despite the extensive £11.2m Our Time, Our Place promotional campaign.
There was a slight increase in visitors from overseas, including the United States.
However, this number was offset by a 2% fall in the number of visitors coming from Great Britain, who make up the biggest group of visitors to Northern Ireland.
As a whole, tourists spent £42m more than in 2011, bringing the total spend to £683m.
Nearly 13m visits were made to attractions in Northern Ireland in 2012.
Titanic Belfast, which opened last year, tops the list.
'Tipping point'
There were also strong performances from W5, the Ulster Museum and the Carrick-A-Rede rope bridge.
However, there was a fall in the number of visits made to the Giant's Causeway visitors centre, despite an extensive revamp.
Dundonald Ice Bowl and Belfast Zoo also saw a fall in visitor numbers.
Tourism Minister Arlene Foster said 2012 was a "tipping point" for Northern Ireland's tourism industry.
"This is a clear indication of the success of the NI2012 initiative and backs up the Northern Ireland Tourist Board's independent evaluation of the campaign that showed it directly generated around £18m additional to the NI economy," she said.
"The tourism industry as a whole recorded a strong year in 2012. The average hotel room occupancy in 2012 was 65%, an increase of 7% compared to 2011. Visits to tourist attractions increased by 6% over the year to approximately 12.8m, which is proof that if you give tourists more to see and do while they are here, they will spend more money and the economy as a whole will benefit."