Pensioner denies 25-year child sex abuse campaign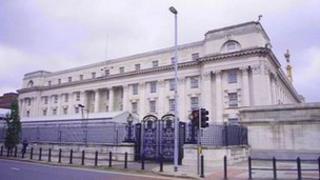 A pensioner accused of a 25-year campaign of child sex abuse allegedly plied one girl with alcohol and attacked her on a near daily basis, Belfast High Court has heard.
The 69-year-old man denies charges of rape, indecent assault and gross indecency, involving three members of the same family.
The accused cannot be named to protect his alleged victims' identities.
He was granted bail but banned from parts of Belfast and County Down.
Prosecutors said the charges against him relate to incidents from 1988 up until the start of this year.
The youngest complainant, now aged 16, told police she had been sexually abused since she was seven, including being raped at a young age.
Her aunt alleged that she too was targeted while being looked after by the accused when she was aged 12-13.
Restrictions
A prosecution lawyer told the court: "She alleged the applicant gave her alcohol, indecently assaulted her and continued to abuse her on an almost daily basis up until she was 17."
A third woman, now in her 30s, alleged that the pensioner committed an act of gross indecency in front of her when she was 15.
Following his arrest, the man, who suffers from a number of medical conditions, claimed all three had made the allegations up.
Bail was not opposed on condition that the pensioner abided by a series of restrictions.
The judge ruled that the accused could be released due to his age, clear record and health problems.
Banning him from entering designated areas, the judge also prohibited any contact with the three alleged victims.
He warned: "If he breaks any of these conditions he will be immediately taken into custody."