Northern Ireland Housing Executive motion blocked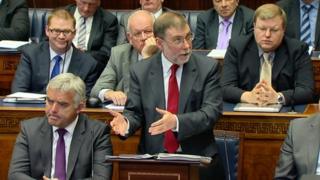 A motion calling for the Northern Ireland Assembly to investigate whether housing minister Nelson McCausland misled the assembly has been blocked.
A majority of members, 16 unionists, 32 nationalists and six others voted for it with 32 opposed.
A DUP petition of concern meant it was effectively defeated.
The assembly had been recalled to debate allegations of political interference in the running of the Northern Ireland Housing Executive.
The allegations were raised in a BBC NI Spotlight programme last week.
The programme contained an interview with DUP councillor and Northern Ireland Housing Executive board member, Jenny Palmer, in which she said she was put under pressure by her party to change her vote at a Housing Executive board meeting.
She said the demand was made in a phone call from Stephen Brimstone, special adviser to Mr McCausland, at his request.
Mr McCausland denied the allegation and said that he always sought to carry out his role with "integrity and probity".
He denied using his role to influence decisions over the awarding of contracts.
Opening the debate, Sinn Fein MLA, Catriona Ruane asked the DUP if double glazing contractor, Trevor Turkington or Red Sky were DUP party donors,
She said that there was no place for "a brown envelope culture".
Ms Ruane, who moved the motion, called for Mr McCausland to step down while an investigation is carried out.
DUP MLA, east Londonderry MLA, Gregory Campbell, described the BBC Spotlight investigation as "absolutely scandalous."
DUP MLA for east Belfast, Robin Newton, told the assembly: "Mr Norman Hayes (Red Sky) is not a member of the DUP, has never contributed to the Democratic Unionist Party, has never been a fundraiser for the Democratic Unionist Party."
Inquiry call
TUV leader Jim Allister said the social development minister misled the assembly and the relevant committee.
Mr Allister added: "Have you no shame that you would use your position in office to promote a commercial interest" with someone who he alleged was "a political buddy."
DUP leader Peter Robinson repeatedly asked Mr Allister if he wanted to declare a conflict of interest.
He then directly asked whether he had been "begging" for money from contractors. Mr Allister denied the allegation.
SDLP MLA Mark H Durkan called for a police investigation into allegations of criminality, which are not connected to the DUP, contained in the Spotlight programme,.
"While the DUP may invoke political chicanery to evade accountability to this assembly for their ministerial actions, those accused of wrongdoing must not be able to side-step the rigours of the law," he said.
The Social Development Committee at Stormont has agreed to set up an inquiry.
Naomi Long, Alliance MP for East Belfast, has called for a public inquiry into the allegations. in a letter to the Secretary of State for Northern Ireland.
Mrs Long said she urged Ms Villiers to convene an independent inquiry after concern over both the allegations and also the "increasing abuse" of the petition of concern mechanism in the assembly,
"Given the seriousness of the allegations with respect to UK public funds, the corrosive effect which such allegations have on public confidence in politics and the wider public concern which they raise, I believe a truly independent inquiry is required," she said.
"The petition of concern was designed to offer protection to minorities within the assembly, where decisions of a sensitive nature risked being imposed upon them against their will.
"Its use in this case to protect the interest of one party in circumstances where there is widespread and cross-community support for a motion is a clear abuse of the mechanism and makes a strong case for urgent reform."
The petition of concern introduced by the DUP was condemned by other parties during the debate.