'Drug dealers out' call from east Belfast after sudden deaths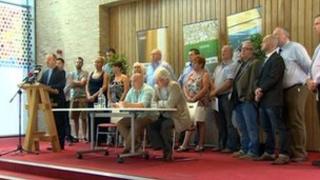 About 45 community and church groups gathered in east Belfast, to call on drug dealers to leave their area and take their "poison" elsewhere.
It followed a spate of eight sudden deaths across Northern Ireland, five of which took place in east Belfast.
Initially, the deaths were thought to be linked to green tablets with a crown or a castle logo, but last week police said no single drug was responsible.
The community groups held a news conference and a vigil on Monday.
Mark Houston, director of the East Belfast Mission, was one of the organisers.
'Greed'
He said they were hoping people power could make a difference in the fight against drug-dealing in the area.
"This community is a strong community and it's a proud community and it is speaking up," Mr Houston said.
"Today's event is about the community coming together and saying 'take this away, we do not want it here' and I think if more and more people gathered with that voice then people would get the message."
Mr Houston said drug-dealing was "just about money, greed and power" and could not be justified.
The director added: "All over the world the power of communities, and the power of people raising their voice together, eventually means that people sit up and listen and that's what we're calling for today - that those who are doing this, and dealing in this poison, take it elsewhere.
About 100 people took part in an anti-drugs vigil in east Belfast on Monday night.
Progressive Unionist Party councillor John Kyle said it was important that the community's voice was heard and it had sent out a "very clear message".
'Anecdotal'
Last week, First Minister Peter Robinson said that "it is well-known who is selling drugs in east Belfast" and he called on the police to take action.
Responding to the DUP leader's remarks, Mr Houston said: "There is a truth to that but it is anecdotal, and unless they actually have evidence to back that up, then the police can't act on it."
All of those who died over the past number of weeks were in their 20s and 30s, and the investigations into the cause of their deaths is continuing.
At the end of last month, health authorities in Northern Ireland issued a safety warning about the green tablets, saying those who took them may have believed they were taking ecstasy.
But last Friday, the PSNI described the deaths as "eight individual tragedies".