Turkey murders: Recep and Eyup Cetin appear in court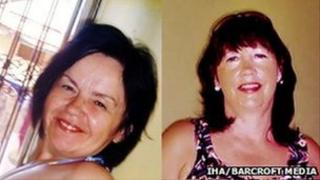 A father and son accused of murdering two women from County Down in Turkey have appeared in court for the latest stage of their trial.
Eyup and Recep Cetin are charged with the killings of Marion Graham and Cathy Dinsmore in August 2011.
They are being tried in a number of hearings in the city of Izmir.
Recep Cetin, 22, previously admitted in court that he killed the women, but he claimed his father Eyup had nothing to do with the murders.
A witness whose identity was kept secret told an earlier hearing that he saw both defendants in the wood where the victims' bodies were found.
At Monday's hearing, a report on mobile phone signals confirmed that the witness was in the area around the time the murders were carried out.
After representations by the lawyer for the victims' families, Baris Kaska, the panel of four judges accepted the findings of the report.
At the last hearing, Recep Cetin's lawyers asked for him to be examined by doctors to determine if he was mentally ill.
However, it emerged during Monday's proceedings that Eyup Cetin was mistakenly taken to hospital instead.
Recep Cetin was examined a week later, but a report on his mental condition is not yet complete.
The details are expected to be heard at the next hearing, which has been scheduled for 29 August.
Marion Graham, from Newry, and Cathy Dinsmore, from Warrenpoint, were both in their early fifties.
Their bodies were found on the outskirts of Izmir with multiple stab wounds.
They had been holidaying in the Aegean Sea resort of Kusadasi.
Marion Graham's former partner Raymond McGuinness was in court for Monday's hearing.