NIO says NIHE 'interference' inquiry up to Executive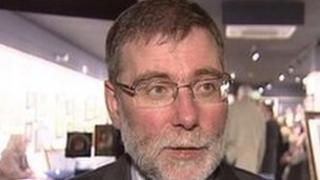 The Northern Ireland Office (NIO) has said any inquiry into alleged political interference in the running of the Housing Executive should be dealt with by Stormont ministers.
Replying to a letter from Alliance MP Naomi Long, the NIO said the Secretary of State's approval was not required.
Mrs Long had also cited the "increasing abuse" of the petition of concern mechanism in the assembly.
The NIO said it was for the Executive to decide if an inquiry was needed.
The MP for East Belfast wrote the letter to Secretary of State Theresa Villiers to call for a public inquiry as a result of the allegations made in a BBC Spotlight programme.
The programme contained an interview with DUP councillor and Northern Ireland Housing Executive board member, Jenny Palmer, in which she said she was put under pressure by her party to change her vote at a Housing Executive board meeting.
She said the demand was made in a phone call from Stephen Brimstone, special adviser to Mr McCausland, at his request.
Mr McCausland denied the allegation and said, in a debate in a special sitting of the assembly on Monday, that he always sought to carry out his role with "integrity and probity".
The NIO statement said the approval of the Secretary of State was only required "if a public inquiry is to cover the period of direct rule, or a period when the Assembly was suspended".