Bomb found in north Belfast security alert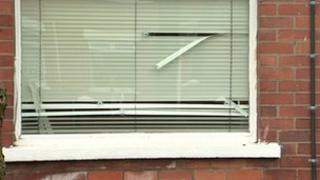 A bomb has been found during a security alert in north Belfast.
Police Ch Insp Andrew Freeburn said it was "a blatant attempt to kill or seriously injure police officers".
The alert began at Alliance Avenue on Tuesday afternoon after reports that shots were heard in the area on Monday.
Holes were discovered in the window of a house and the army found what they said was a viable device. A controlled explosion was carried out.
Thirty families had to leave their homes during the alert.
Ch Insp Freeburn said: "Those who carried out this heinous act showed callous disregard for the safety of the local community and police officers serving this community. We are very fortunate that no-one was killed or seriously injured."
Alliance Avenue was closed to traffic between Etna Drive and Berwick Road. All roads have now reopened.
The Ardoyne Community Centre was made available to residents who have now been allowed to return to their homes.