Birds of prey let loose by vandals at World of Owls sanctuary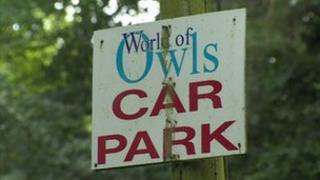 Vandals have damaged enclosures at an animal sanctuary in County Antrim, releasing birds of prey into the wild.
It happened at the World of Owls Centre in Randalstown Forest. It houses 55 birds, 12 of which are now missing.
There are fears the escaped birds could starve, as most of them have been raised in captivity and have never known life in the wild.
Efforts are being made to locate the 12 missing birds and police are appealing for information.
The netting on many of the enclosures has been cut open and rolled back by vandals, allowing the birds to escape.
After staff at World of Owls appealed for help on Tuesday afternoon, volunteers began to arrive at the sanctuary to mend the enclosures.
However, sanctuary staff have warned the public that if they spot birds of prey in the area, no attempt should be made to capture them.
Instead, if anyone sees birds of prey "behaving unusually" in the nearby area, they are asked to contact World of Owls on 028 94472307, so the birds can be recovered properly and safely.