Maghaberry Prison governor summoned to appear in court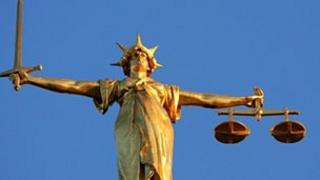 The governor and chief medical officer of Maghaberry Prison have been ordered to appear in court on Thursday.
They will be asked to explain why a remand prisoner apparently cannot get medical treatment, either at the jail or at an outside hospital.
The prison authorities were accused of an "obstructive attitude".
Mr Justice Weir said it appeared that the system was being operated for the benefit of prison staff, rather than focusing on the needs of prisoners.
He added that prisoners, whether on remand or sentenced, had the same rights as everyone else and those rights deserved to be recognised and facilitated by the authorities.
The Belfast Crown Court judge said many doctors had refused to travel to Maghaberry because they cannot attend patients in the prison hospital, but in general quarters, which they deem totally unsuitable for carrying out examinations or treatments.
The judge said he was no longer willing to "see this pea rolled about under various thimbles", and that he wanted a plan to be put in place whereby an inmate can receive the treatment he requires.
The prisoner, Jimmy Seales, 55, of Ballykeel Road, Hillsborough, County Down, denies the murder of Philip Strickland near Comber on 11 January last year.
He needs treatment for a broken arm that has failed to heal properly, the court heard.
He was to have been seen by a consultant at the Ulster Clinic on Thursday, but was "advised in no uncertain terms" that appointment would not be kept.
The judge said that arrangements needed to be made for him to be taken for treatment in a discreet and sensible way as far as security went.