Three arrested after car chase on M1 outside Dublin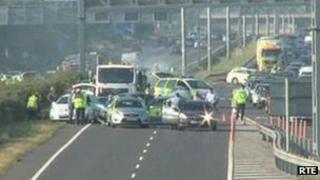 A car, believed to have been stolen in Northern Ireland, has been involved in a police chase along a motorway in the Republic of Ireland.
Gardai (Irish police) said they "intercepted" the car on the M1, just outside Dublin, at about 17:30 BST on Wednesday and arrested three men.
A number of garda cars were damaged as the vehicle was brought to a halt but a garda spokeswoman said no-one was hurt.
The three men are being questioned at Ballymun Garda station.
The southbound lanes of the M1 were closed at the M50 junction for a number of hours on Wednesday evening while police carried out their investigation.