Trainee solicitor cleared of Belfast parade charge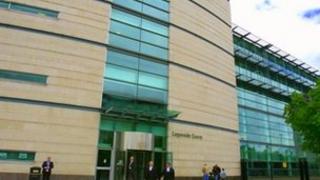 An apprentice solicitor has been cleared of taking part in an unlawful parade in Belfast.
Barbara Muldoon had been charged after helping to organise a protest outside the BBC's headquarters in October 2009.
The protest was linked to a television appearance by British National Party (BNP) leader Nick Griffin.
But the allegation of participating in an un-notified public procession was dismissed at Belfast Magistrates' Court.
Ms Muldoon, 40, and a member of the Anti-Racism Network, welcomed the decision but expressed disappointment at the Public Prosecution Service's decision to bring the case.
She also said it was a vindication of the right to peaceful protest and assembly under human rights legislation.
Demonstrate
The trainee lawyer, who specialises in immigration law, had joined trade unionists, school children, pensioners and ethnic minority representatives at the anti-BNP protest.
They were there to demonstrate against the BBC's decision to invite Mr Griffin on to the Question Time programme.
Ms Muldoon gave evidence that during the protest, which was notified to police in advance, officers on the ground told organisers they should proceed to Belfast City Hall and disperse from there.
Her defence argued that the alleged unlawful parade resulted from those police directions.
Following a two-day hearing the charge was dismissed and Ms Muldoon was acquitted.