Statue of Virgin Mary is handed in to Ardoyne church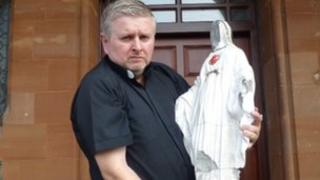 A statue of the Virgin Mary that was placed on a bonfire has been handed in to a north Belfast church.
Fr Gary Donegan, rector of Holy Cross Church in the Ardoyne area, welcomed the return of the statue.
It had been placed on a bonfire in the neighbouring loyalist Shankill district.
He said the statue had been removed from the bonfire by community leaders "who did not want to cause offence to ordinary Catholics".
Bonfires are traditionally lit by loyalists across Northern Ireland on the eve of the 12 July Orange Order parades celebrating the Battle of the Boyne in 1690.
Fr Donegan said it appeared that the statue had only been on the bonfire in Lanark Way for 10 minutes before it was removed.
"This incredibly responsible act proves that there are leaders within our communities who remain committed to taking positive steps for peace," he said.