Flag protester Jamie Bryson fails in Stormont bid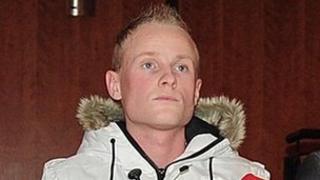 Leading union flag protester Jamie Bryson failed to be allowed to attend a special Stormont debate on Twelfth of July parading decisions.
The Ulster People's Forum spokesman was invited to Parliament Buildings for the recalled assembly session by TUV leader Jim Allister, the High Court heard.
But a judge denied him permission after ruling that his presence could spark further disruption on the streets.
Mr Bryson is is on bail accused of offences linked to the flags dispute.
He is currently banned from being within a mile of any protest or demonstration.
The 23-year-old, of Rosepark, Donaghadee, County Down, faces charges of encouraging or assisting offences, and taking part in an un-notified public procession.
He launched a last-minute bid to have the bail terms varied so that he could be at Stormont for Tuesday's debate on the Parades Commission's decision to ban the Orange Order from returning past Ardoyne shops on the return leg of their parade in north Belfast on July 12.
Following a refusal at Belfast Magistrates' Court, Mr Bryson's lawyers mounted a High Court appeal.
'Inflame tensions'
Opposing the move, a prosecution counsel said police feared Mr Bryson's presence at Parliament Buildings could inflame tensions.
She said protests were already under way in the grounds of Stormont.
Mr Justice Horner was told more than 70 police officers have been injured since rioting erupted over the Parades Commission's decision to ban the Orange Order from returning along a stretch of Crumlin Road which separates loyalist and nationalist communities in north Belfast on 12 July.
"It's a volatile situation and police are very keen that nothing happens to further inflame it," she said.
A defence counsel argued that his client merely wanted to sit "quietly in a dignified manner" in the public gallery.
Mr Bryson, accompanied in court by fellow high-profile flag protester Jim Dowson, listened as the barrister stressed he would have no involvement in any demonstrations.
"It's overstating it to say his very presence will inflame the situation," Mr Coiley contended.
But dismissing the appeal, Mr Justice Horner described the current situation on the streets as "incendiary".
"There is obviously a risk that the mere presence of Mr Bryson at Parliament Buildings in those circumstances could set off further disruption," he said.
"I do not think it would be appropriate to vary conditions of bail granted in this case."