NI military covenant to be examined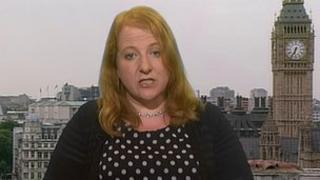 A Commons committee is recommending government support for members of the armed forces in Northern Ireland, similar to the rest of the UK.
A report by the NI affairs committee on the armed forces covenant said no plans have been published by the executive.
The covenant recognises that the government has a duty of care to veterans and their families.
Alliance MP Naomi Long, who sits on the committee, said she wanted to see parity.
Some of the benefits available in the rest of the UK include priority in accessing NHS healthcare and additional help with social housing.
"The armed services family who locate in Northern Ireland or who are based in Northern Ireland should be at no disadvantage from doing so," Ms Long said.
"We wanted to ensure as a committee that members of the armed services would be treated in the same way as if they were treated in Great Britain and that is very important in Northern Ireland given the service that they have given."
Detailed plans have been published in Wales and Scotland, but there have been none from Northern Ireland.
The committee chair, MP Laurence Robertson, said the report highlighted the need for those who serve the country not being disadvantaged because of that.
He said while the special political and legal situation in Northern Ireland made the situation potentially contentious, that should not mean any disadvantage for the armed forces community living here.
The committee has called on the Executive to appoint a minister to sit on the national steering group overseeing implementation of the covenant which designed to show government recognition of the particular pressures of active service and its aftermath.