Rioting English man wanted to 'fit in with the locals' in Belfast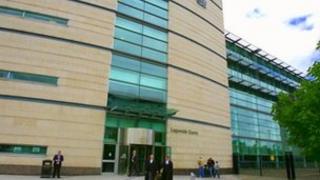 An English man joined rioters a week after arriving in Belfast to show he could "fit in with the locals", a court has heard.
Jake Watkiss and another man from the Midlands are accused of using a wheelie bin full of masonry to attack police in the north of the city on Monday night.
Watkiss, 24, and Luke Ridley, 23, are each charged with riotous assembly.
Both men were released on bail after Belfast Magistrates' Court was told they have made full admissions.
Police said the pair were captured on CCTV taking part in street violence in the Mount Vernon estate for up to 45 minutes on Monday.
Ridley, of Ross House, Mount Vernon Road, Belfast, was said to have lived in Northern Ireland for the last three or four years.
The court heard Watkiss moved in with him last week in a bid to make a fresh start after ending a relationship in Wolverhampton.
"He foolishly got involved to demonstrate he can fit in with the locals," a defence lawyer said.
Curfews
The solicitor said Watkiss and Ridley have each accepted taking part in the rioting and will ultimately face punishment.
Opposing their release, a police officer stressed tensions remained high across the city and beyond.
But Deputy District Judge Bonita Boyd granted bail to both men.
She imposed night-time curfews and banned them from being within 500 metres of any parade, protest or demonstration.
Meanwhile, a 29-year-old Belfast man was remanded in custody in connection with trouble in the Glenmachan Street area on Monday.
Gary Alan Montgomery, of Iris Drive in the city, faces charges of possessing and throwing a petrol bomb, riotous assembly and resisting police.
He will appear again by video-link for a bail application on Friday.