Railway trespassers 'risk death', say Translink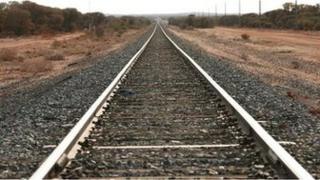 More than 100 people have been seen trespassing on rail lines in Northern Ireland since the beginning of June.
Among the incidents recorded were five youths under a bridge at Finaghy and a trespasser being removed from the line at Greenisland.
Translink, which revealed there had been 96 incidents, appealed for people not to risk their safety.
It said the impact of trespassing ranged from delays to services to a risk of injury or death.
Lynda Shannon of Translink said: "While we always appeal for parents and carers to remind young people to stay away from tracks, they are not the only ones who decide to use the rail network as a shortcut.
"Of the trespassing incidents we recorded in the past month, many of the trespassers were adults and one of them was a senior citizen."
Services
She said a train travelling at 90 mph covers 40 metres per second.
"It's clear that when it comes to man versus train, there's no contest," she said.
"We changed our timetable at the beginning of January this year to increase the number of services we operate and reopened the Coleraine-Londonderry line in March, so there are up to 60 services more operating on our network than there were this time last year."
Translink said there was CCTV inside and outside trains, and there were cameras located in several areas around the network that clearly captures footage of trespassers.
If prosecuted, trespassers risk being fined if convicted in court.