NI car dealer Charles Hurst reports pre-tax profits rise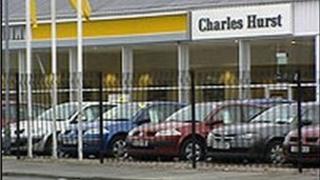 One of Northern Ireland's largest car dealerships has reported increased turnover and pre-tax profits for 2012.
The Charles Hurst group, which has 16 car and two motorcycle franchises, saw turnover increase slightly to £347m, while pre-tax profits went up from £2.8m to £4.6m.
The firm said one element in the performance was increased profit margins on used cars.
Charles Hurst is ultimately owned by Lookers, a Manchester-based firm.
The motor trade industry in Northern Ireland has faced a tough time in the economic downturn.
Sales plunged by more than 30% between 2007 and 2012 and some smaller dealerships went out of business.
There has been some recovery in sales in 2013.