Cannabis factory uncovered in east Belfast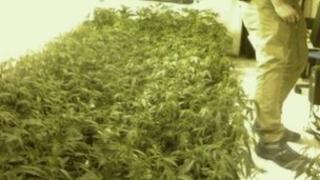 Police have uncovered what they have described as a "large, sophisticated cannabis factory" in east Belfast.
It was found in a house in Templemore Avenue and contained cannabis with a potential value of more than £100,000.
Area commander, Ch Insp Mark McEwan, said such factories posed a fire risk.
"Officers discovered this suspected cannabis factory on 22 July and managed to disconnect electricity supplies which were used to generate heat and light for the plants," he said.
'In similar circumstances cannabis factories have caught fire and our officers' primary concern was making sure the property and the occupants and any others near it were kept safe from the danger of fire," the area commander added.
Police said subsequent enquiries had shown that "the property had been empty for some time and was broken into by the criminals who set up the cannabis factory".
"Members of the community may have property which for one reason or another, have been left unused and empty for some time," they said.
"This type of property, be it a house, apartment or even a storage facility is perfect for criminals to set themselves up to embark on illegal activities without being seen.
"We would ask landlords and property owners to make regular checks of their property to ensure they are not being used by criminal elements."