Parades Commission refuses north Belfast march plan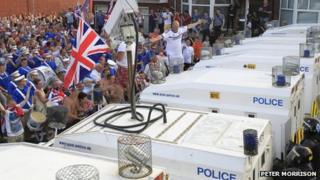 The Parades Commission has ruled against another two applications from Orange lodges requesting permission to march past north Belfast shops.
The lodges sought to walk past Ardoyne shops this Saturday and the following week.
Trouble followed a decision to prevent three lodges from walking the route on 12 July.
The Orange Order staged a peaceful protest at police lines on the route last Saturday.
The order said it will stage a protest there every week until it completes the Twelfth parade.
The Parades Commission, the body that adjudicates on contentious parades in Northern Ireland, has already ruled against proposed parade routes for two consecutive weeks.
The commission's previous ruling, that the 12 July parade could pass the Ardoyne shops in the morning, but could not walk the same route in the evening, sparked anger and widespread protests from unionists.
Last week, the Orange Order said it was suspending its protest against that decision, but demonstrations and disturbances continued in some loyalist areas.