A5 project: Politicians to discuss stalled road scheme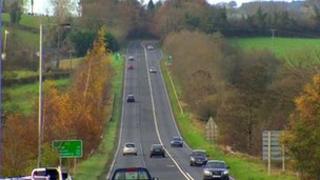 A cross-party delegation of politicians is to meet the Irish prime minister to discuss the future of the stalled A5 road scheme.
In April, the High Court blocked permission for the dual carriageway project between Londonderry and Aughnacloy in County Tyrone.
The project faces an indefinite delay after Roads Minister Danny Kennedy decided not to challenge the ruling.
The scheme was part of a proposed cross-border business route.
On Thursday, Northern Ireland politicians will meet Taoiseach (Prime Minister) Enda Kenny in Dublin to talk about the way forward.
Declan McAleer of Sinn Fein is part of the delegation who will speak to Mr Kenny. He will urge the taoiseach to pledge more money to the project.
"We'll be emphasising the fact that this is an island-wide project which connects the north west of Ireland to the rest of Ireland," he said.
"We will also be emphasising the huge significance of this, not only in economic, inward investment terms, but also on the safety aspect as well."
The A5 project had stretched from Londonderry to Aughnacloy, County Tyrone, but it faced a legal challenge from the Alternative A5 Alliance (AA5A) - a group of farmers, landowners and supporters who sought to block work on a 53-mile stretch.
The AA5A won their judicial review into the planned new route after the court ruled an environment impact assessment had not been carried out properly.
It was to have been the largest scheme of its kind in Northern Ireland and would have linked Dublin and the north west.