Lough Erne resort: Invest NI tries to 'claw back' £3.5m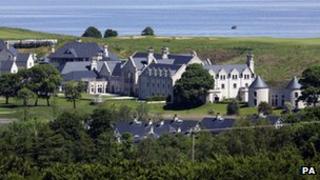 Invest NI is attempting to recover £3.5m in taxpayer funding from the company behind the financially-troubled Lough Erne golf resort near Enniskillen which hosted the G8 summit in June.
It gave a £3.5m grant to Castle Hume Leisure to help build the hotel.
Castle Hume went into administration in May 2011. The resort continues to trade while a buyer is sought at £10m.
But Invest NI is unlikely to see its grant returned as the bank has first call on any sale proceeds.
Invest NI's money was part of a £23m investment by Castle Hume Leisure that saw the five star hotel open alongside two golf courses in 2007, employing 122 people.
It went into administration four years later owing the Bank of Scotland (Ireland) £25m.
Unsecured creditors
A spokesperson for Invest NI said Castle Hume "was in default of the legal letter of offer" when it entered administration.
"Invest NI followed due process and is currently seeking to claw back the support paid," the spokesperson said.
However, because it is an unsecured creditor it is behind the bank in the queue for money owed.
Administrators, KPMG, said they did not expect enough funds to become available to allow any payments to unsecured creditors.
They also said the sales process was ongoing.
Following the G8 summit, there was said to be overseas interest resulting in more than five prospective buyers.