Simon Hamilton appointed new finance minister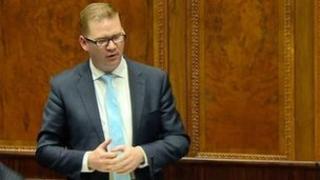 Simon Hamilton, the Northern Ireland Assembly for Strangford, has been appointed minister of finance and personnel.
He replaces his Democratic Unionist Party colleague Sammy Wilson, who is also MP for east Antrim.
The move was announced by DUP leader and first minister, Peter Robinson, on Monday.
The change had been expected because of a forthcoming ban on double jobbing at Westminster and Stormont.
Mr Robinson said that in two years Mr Wilson would have to choose between the assembly and Westminster.
Should he decide to stay in the assembly Mr Wilson would be a "high priority" for consideration as a minister again in the future, Mr Robinson added.
Mr Robinson said Mr Hamilton had demonstrated his "tremendous capability and hardworking mind-set" in various positions both inside and outside the assembly.
Mr Hamilton, who was elected to the assembly in 2007. said he was "honoured to be appointed" and looking forward to the challenges ahead.
"I have been privileged to serve as Sammy's assembly private secretary (APS) since 2011 during which time I have garnered invaluable experience and guidance from him," he said.
Mr Robinson said as a former finance minister he appreciated the challenges and magnitude of the job.
"I thank and commend Sammy for his excellent stewardship of this demanding portfolio.
"He steered the department through one the most challenging fiscal periods in the history of the Executive. "