Female police officers played key role during G8 summit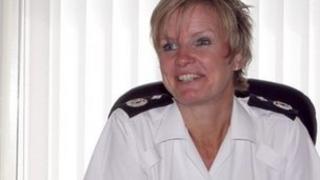 The security operation that surrounded the G8 summit in Northern Ireland cost an estimated £80m.
This included a large fence built around the Lough Erne venue in County Fermanagh and increased police patrols and checkpoints.
More than 3,500 police officers from other parts of the UK assisted the PSNI.
US President Barack Obama used his speech at the Waterfront Hall in Belfast to thank Chief Constable Matt Baggott for keeping all the participants safe.
Behind the scenes, away from the public gaze, 11 women police officers in civilian clothes were playing vital roles, and treading ground few women had tread before.
They were working as members of the PSNI's close protection unit (CPU), a team of highly trained bodyguards who protect a range of high-profile figures deemed to be at risk from terrorist attack, referred to as "principals".
Additional members of the unit were recruited for the G8. Normal employment rules were set aside and only female officers were invited to apply, as PSNI Deputy Chief Constable Judith Gillespie explained.
"With G8 on the horizon and the knowledge that there would be some high profile female principals coming, as well as others such as Michelle Obama, it was clear there was a need for female CPU officers," she said.
"Under normal circumstances, to advertise in that way would be against the law, but because there was what we call a genuine occupational requirement for females on the basis of dignity etc for female principals, with advice from the Equality Commission, we went forward with this bold move.
"Of course there were some eyebrows raised, as you would expect, within the organisation about why we were doing this, but when it was explained the vast majority of people accepted it and indeed supported it.
"Women were only armed within the police service in 1994 and that's really quite recent history, so to have female officers within the close protection unit is a very new thing.
"In fact, before we ran this bespoke advertisement just for women, to my recollection there's only ever been one other female officer attached to the CPU, who has now retired from the service."
More than 120 women officers applied, with 52 successfully completing a selection process, and the top 12 then had to complete a specialised national training course.
Firearms training
One of the officers later withdrew, but the other 11 passed and joined the close protection unit.
Two of them agreed to be interviewed on the basis that they would not be named for security reasons.
"I thought it was a great opportunity for us, a real once-in-a-lifetime opportunity," officer A said.
Her colleague agreed that "it was the chance to go for a totally different role, something I really wanted to try".
The intensive four-week training course was the same as it would be for men who want to join the unit.
It included unarmed combat, fitness and strength tests, and advanced training with the police issue glock handgun and MP5 rifle.
"We had firing range training, which tested accuracy as well as speed," officer B said.
"It's' up to us to keep our principal safe and that means if we believe there's a perceived threat we have to deal with, we have to get our firearm out as quickly and safely as possible, and that's where the training is really important."
Within six weeks of completing their training and joining the close protection unit, both officers found themselves guarding very high profile principals.
"On the first day of the G8 I looked after President Obama's two daughters," says officer A.
"I had to be alert all the time but at the end of the day they are still just children and like to be kids so I just gave them some space and let them be kids.
"There were a few nerves, but it all went well and was a brilliant experience."
Officer B was part of the advance party for the president and Prime Minister David Cameron, and also for the German Chancellor, Angela Merkel.
While it is an area of policing traditionally dominated by men, both officers said they were well received and supported by male colleagues in the unit, and they believe more women will now want to join.
"I think now that women can see that it is possible to pass all the fitness and strength tests, as well as the firearms training, others will want to give it a go," officer B said.
All 11 of the new CPU officers have now returned to normal policing duties, but they will be keeping their CPU training up-to-date and will be deployed for future VIP visits.
Judith Gillespie has no doubt their newly acquired skills will be called upon, and that the initiative has been a huge success.
"In the future I'm sure we will have many other high-profile females coming to Northern Ireland who will require close protection and it's great to know that we can now draw on this pool of highly-trained and professional officers," she said.
"Certainly when I was a constable this kind of opportunity would not have been dreamt of for me, so I'm delighted to see that part of the legacy of G8 for this organisation is this facility we have for women to be attached to the CPU and that's a great legacy for the future."