Ruling on Castlederg republican parade expected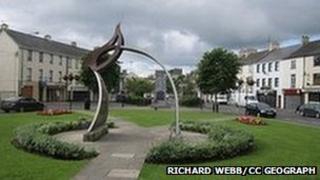 The Parades Commission is expected to rule later on a republican parade in Castlederg later this month.
The parade commemorates Tyrone's republican dead, including two IRA members killed by their own bomb in 1973, and is backed by Sinn Féin.
The party has offered to re-route the parade away from the town's war memorial and Methodist church.
However, unionists have described the parade as "grossly insensitive" and say it should not be allowed to go ahead.
Delegations from Sinn Féin, the DUP and Ulster Unionists have met with the Parades Commission to discuss the parade.
On Wednesday, Northern Ireland First Minister Peter Robinson said there was no justification for it and called on the commission to show sensitivity to IRA victims.
He said the parade was insensitive and glorified terrorism.
However, Deputy First Minister Martin McGuinness said the issue was "of how we deal with the past and whether or not people have a right to commemorate those people who have lost their lives".
One of those being commemorated is Strabane IRA man Charles Breslin, who was shot dead by the SAS in 1985.
His sister Karina Carlin, who is a Sinn Fein councillor, said the parade should go ahead.
"These young men lived and died in their own communities, they should be remembered in their own communities by their own communities," she said.
"Commemorations are about commemorating and remembering our dead - absolutely nothing to do with hurting anybody else."
The sister of a Castlederg man shot by the IRA in 1980 said the commemoration should be banned.
Roberta Sproule's 29-year-old brother, Jackie Hamilton, died in 1984 of an epileptic fit brought on by his injuries.
"I don't see why they need to walk the streets of Castlederg where they killed and blew up people," she said.
"It should be banned completely."
Ulster Unionist assembly member Ross Hussey said it was not only unionists in the town who opposed the parade.
"I am most definitely aware of objections that have emanated from local Catholic people," he said.
"We are not surprised at this. This issue is not about 'orange and green'. This is about right and wrong."