Bank of Ireland's losses are falling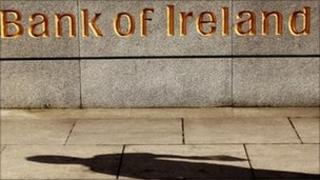 Bank of Ireland has reported a loss before tax of 504m euros (£439m) for the first six months of 2013.
That compares to a loss of 1.26bn euros (£1.09bn) for the same time period last year.
The bank said that write-offs on bad loans fell from 941m euros (£819m) in June 2012 to 780m euros (£679m) at the end of June this year, down 17%.
Its total income in the first half of 2013 rose by 36% to 1.188bn euros (£1.03bn),
Chief executive Richie Boucher said the 15% state-owned lender was on the mend.
"It's been a hard four years," Mr Boucher said.
"But we now have a normalised bank which has strong momentum towards profitability. We are in the more pleasant place of having the challenges of ordinary businessmen and women."
Underlying operating profits, before impairment provisions, rose to 380m euros (£330m) in the first six months of the year, up 343m euros (£298m) the same time last year.
Bank of Ireland said the proportion of owner-occupier mortgages in arrears over 90 days grew in the six months to 10.52%, compared to 9.88% at the end of last year, reflecting the continued impact of the general economic downturn.
Buy-to-let mortgage holders in trouble for more than 90 days rose to 26.01% from 23.36% at the end of last year due to the impact of borrowers on rising repayments as interest only periods come to an end.
Average staff numbers at the bank fell to 11,998 at the end of June from 13,429 the same time last year.