Abdul Said fails in legal bid to stay in Northern Ireland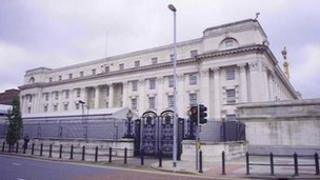 A 20-year-old Somalian man who claims he was threatened by Ethiopian soldiers has failed in a Belfast High Court bid to remain in Northern Ireland.
Abdul Said is now set to be flown to Italy where his application for asylum will be determined.
He brought emergency proceedings after the Home Secretary Theresa May decided he should be removed from the UK.
Mr Said had claimed protection under rights to freedom from torture and inhuman or degrading treatment.
His attempt to seek asylum in the UK was driven by a fear of persecution in his native country, Belfast High Court heard.
According to his account he fled Somalia five years ago following threats from the Ethiopian military.
'No food'
Following periods spent in Italy and Sweden he came to the attention of British immigration officials in January this year and underwent an initial asylum screen interview in Belfast.
A judicial review challenge was mounted after the Italian authorities accepted a request by the home secretary to deal with his claim.
However, 24 hours before he was due to fly out, his departure was suspended by an interim court order until the case was determined.
Mr Said's lawyers argued that asylum applicants suffer from an unfair determination process in Italy.
They also claimed that asylum seekers are provided with inadequate accommodation and care.
Mr Said gave unsupported evidence of his alleged treatment during an earlier period in Italy.
He claimed to have been initially accommodated in a camp for new refugees for two months where no food was provided.
'Vague'
According to his account he was then forced to sleep on the streets and rely on handouts from churches for food.
His situation allegedly drove him to flee to Sweden where he slept in a mosque and depended on more food handouts for survival.
But the judge at Belfast High Court described Mr Said's evidence as "vague and generalised in nature".
The judge said there was nothing to suggest conditions in Italy differed from those found to exist in three guideline cases.
Ruling that Mr Said had failed to establish an arguable case, he confirmed: "The application for permission to apply for judicial review is refused."