North Belfast parade deal was close says Peter Osborne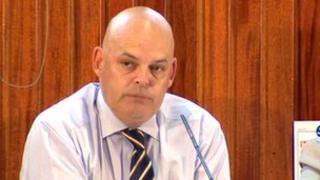 The chairman of the Parades Commission has said he believed that a deal was a close a year ago on a contentious Orange Order parade in north Belfast.
This year the commission banned the 12 July parade from returning along part of the Crumlin Road separating loyalist and nationalist communities.
Five nights of violence followed the parade being stopped.
On Wednesday night, the Parades Commission's Peter Osborne said an agreement had been close last year.
Speaking at the West Belfast Talks Back debate, Mr Osborne said: "We wouldn't maybe be answering this question or having this discussion today if we had managed to restart that dialogue and try to push on to reach that agreement that I think was reasonably close just over a year ago."
The Orange Order has been staging a protest in the Woodvale area every Saturday since its parade was stopped.