Belfast City Council meets over £300,000 scam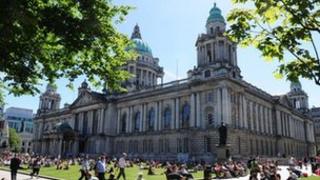 A special meeting of Belfast City Council's audit panel has been held to discuss a scam that cost £300,000.
Conmen contacted a legitimate contractor who had already carried out work for the council and asked for their outstanding invoices.
The fraudsters then went to the council with the invoices and sought payment for the work, using bogus bank details.
A spokesperson said: "Panel members were assured that such an incident is unlikely to happen again."
The cross-party audit panel met council officials just days after the BBC revealed details of the scam.
A council source said that was how some councillors heard of the problem.
Insurance claim
Chairman of the audit panel, Jim Rodgers said: "We called an emergency meeting of the audit panel today to seek assurances from senior officers that our security had not been compromised and to see if our already robust security procedures could be further enhanced.
"Our biggest concern was the potential cost to our ratepayers and we have been informed that the council has submitted an insurance claim to recover the amount.
"The panel members were assured that such an incident is unlikely to happen again and this was a failure to comply with security procedures rather than a fundamental failure of our systems."
It is understood the council's policy and resources committee was briefed by Belfast City Council's head of finance, Ronan Cregan, over the issue on Friday.
Sources told the BBC that two members of staff have been suspended on full pay because of the matter. There is no suggestion of them being involved in criminality.
The police have been called in to investigate the scam.