Church of Ireland primate's 'acute sadness' over Belfast riots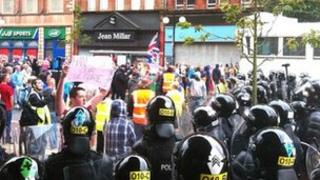 The Church of Ireland primate has said he feels "acute sadness" at recent disturbances in Belfast.
In an interview on the Sunday Sequence programme, Dr Richard Clarke condemned the rioting, which he said had damaged the reputation of Northern Ireland.
Fifty-six police officers were injured during violence in Belfast city centre on 9 August, when loyalists blocked a republican parade.
It followed on from disturbances which started in north Belfast on 12 July.
Several nights of loyalist violence followed a decision by the Parades Commission to stop an Orange Order return march along part of the Crumlin Road.
"In a modern state, in any state, to attack the legitimate authority of the police is actually to attack the legitimacy of the state," Dr Clarke said.
"There is no doubt - the gospel is very clear - that we actually owe a duty to those who are the authorities of the state - the legitimate authorities, the rightful authorities."
He said the Church of Ireland stood ready to do anything it possibly could to help calm tensions.
"I know locally a fair amount has been done and a fair amount is being done," Dr Clarke said.
"I think a great deal of the future for peace in Northern Ireland will be done at local level.
"For example, earlier in the year at the time when there was the rioting in east Belfast with the flags, I know that Church of Ireland clergy and others were out on the street every night, trying to talk, trying to help people move away from the rioting and not get involved in it.
"A lot of that is not grandstanding, it's not headline stuff, it's slow patient work on the ground."