Belfast judge criticises Willie Frazer case delays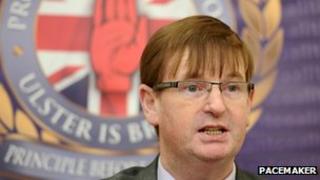 A judge has criticised delays in completing files in the case of loyalist Willie Frazer, who is accused of offences linked to flag protests.
Mr Frazer, from Markethill in County Armagh, faces six charges.
The 53-year-old has been the subject of stringent bail conditions since March.
However, at Belfast Magistrates' Court on Friday, a prosecution lawyer revealed a report on an examination of Mr Frazer's computer would not be finished until March next year.
District Judge Austin Kennedy said that date was 14 months after some of the alleged offences had been committed and he added that he did not believe the situation was proper or satisfactory.
Mr Frazer was not in court, but his lawyer said he believed the analysis of the computer was nothing more than a "fishing expedition".
Among the charges the County Armagh man faces are encouraging or assisting offences by making a speech to flag protestors outside Belfast City Hall in January.
He is also accused of three counts of taking part in un-notified public processions, obstructing traffic in a public place, and possession of a prohibited weapon, namely a Taser.
The case was adjourned until 13 September.