Four near misses in Northern Ireland airspace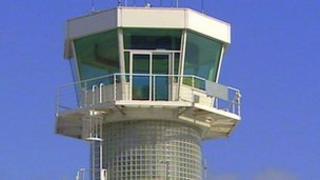 There have been four near misses, three of them involving passenger planes, in Northern Ireland airspace in the past two years.
The findings are the result of a Freedom of Information request.
They happened near the three main airports, the George Best City Airport, City of Derry Airport and Belfast International.
A fourth incident was near Newtownards Airfield.
One near Belfast City Airport involved a DHC-8 twin propeller plane, which can carry up to 70 passengers, and a micro-light.
The pilot of the DHC-8 spotted the small aircraft as he made his approach to land.
He informed air traffic control but did not have to take any evasive action.
Another incident, involving a Boeing 737, which can seat up to 180 people, and a small Cessna plane being flown by a student pilot occurred near Derry City Airport in County Londonderry.
The student pilot had left Saint Angelo Airport in Enniskillen and headed north to Londonderry - due to bad weather he then diverted to Aldergrove.
Both planes were flying around 2,000ft and were within about 100ft of each other in terms of vertical distance. In horizontal distance they were three and a half nautical miles away from each other. The student pilot never saw the Boeing 737.
'Serious encounter'
The incident at Belfast International Airport involved an Airbus A319, which seats about 140 people, taking off for a night flight.
The plane was taking off when the pilot saw a helicopter moving into the aircraft's path. Once airborne, the airbus pilot turned to the right - at one stage the two aircraft were just 200ft apart vertically. But how close they were in horizontal distance was hard to tell because it was dark. The pilot assessed the risk as high.
The closest near-miss was near Newtownards Airfield and involved a small plane called a Vigilant and a slightly bigger Cessna plane.
As both planes were preparing to land the Cessna was just 20ft below and 10ft behind the Vigilant.
The Vigilant went on a go-around, meaning the pilot circled again before landing.
Both planes landed safely but the Vigilant pilot was confident that a collision could have happened. He assessed the risk as high.
The Civil Aviation Board were in no doubt that this had been a very close and serious encounter.
Clarification 18 September 2013: An earlier version of this story did not make clear that although the planes involved in the incident near Derry City Airport were flying at heights within 100ft of each other, they were separated by three and a half nautical miles.