Royal Black Institution on parade in Northern Ireland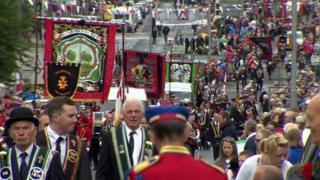 Thousands of members of the Royal Black Institution have taken part in demonstrations across Northern Ireland.
The largest of the six gatherings, on what is known within the institution as Black Saturday, was in Banbridge, County Down, where 7,000 took part.
Earlier, a Royal Black feeder parade past St Patrick's Church, in Donegall Street in Belfast city centre, passed off without any trouble.
The birth of Prince George was marked at all six demonstrations.
The resolution on loyalty rejoiced in the birth of the heir to the throne and expressed good wishes to his family.